With social isolation and remote working being the norm globally, many businesses are looking for ways to extend training online. This is especially true for consultants and training companies who are typically used to face-to-face-training delivery. You might immediately think of some SAAS learning management like Udemy or Coursera to sell your training, but there is another less expensive option where you get to keep 100% of your revenue. In this post, I want to talk about a tool we have been implementing out extensively for Asporea clients over the last couple of years, and that's LearnDash.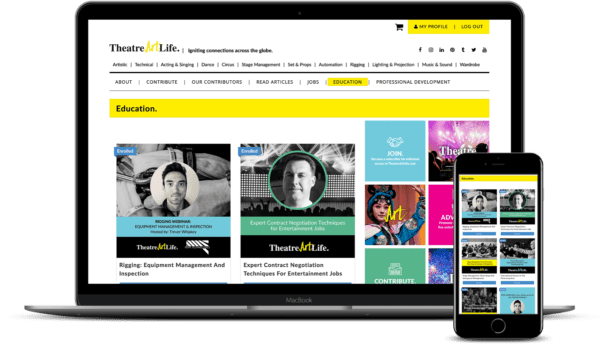 LearnDash is a plugin that helps you manage your training records and courseware on the WordPress platform. Arguably it's one of the most well-regarded course-builder plugins on the market, used by many large businesses, major universities and training companies.
The relatively low entry point of LearnDash makes it very attractive to entrepreneurs and small business owners.  Plugin prices start at just $159 for a single website (the plugin was on special at time of writing) That, and the relative, ease of learning WordPress make this combination a very attractive one indeed.
LearnDash is one of the most well-known and well-regarded online course builder plugins for WordPress. In fact, it's reportedly used by Fortune 500 companies, major universities and training organisations, and entrepreneurs who publish learning content online. It can be used by anyone who wants to build courses online. The real value from this plugin is the ability to create multi-media rich learning experiences which can incorporate courseware instruction, videos, audio, quizzes and assignments — all through a drag and drop interface.
Going further the customisation within the plugin meets nearly every requirement out of the box.  You can add lesson timers, drip-feed content so that users must spend time between units, and allow users to participate in forums with lecturers and other students.
At the completion of a course, LearnDash manages assessments and issues completion certificates automatically – certificates that can be highly customised to meet even the most exacting brand requirements. For larger training organisations, or for courses where there are multiple topics, users can be assigned to learning groups with different tutors assigned at the back end to manage enquiries.  You can trigger automated messages at set points to ensure your learning managers take action – for example, you can trigger an email to let course managers know that an assignment or quiz is ready for marking.  For additional flexibility, LearnDash can be connected to Zapier to trigger any number of different automated actions.
Once installed, Learndash sits as a section in your WordPress dashboard, and all aspects of your course and designed and managed in this one location.  You can establish multiple courses in the system with course content arranged into lessons and topics and quizzes can be added to either of the latter.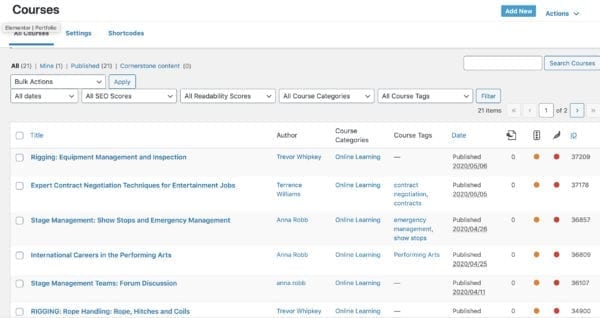 Once your course content is created you can embed it into your WordPress website easily with shortcodes.  LearnDash has a built-in purchasing module that you can configure with Paypal or Stripe.  That said, some clients are choosing to sell their courses through an existing Woocommerce store and this works too.
We recommend LearnDash to our clients, because the visual course builder, with drag-and-drop functionality, makes it really simple to create and then arrange your lessons and assessments into courses.  LearnDash is also compatible with page builders like Beaver Builder or Elementor which adds further drag and drop design functionality to each lesson you create.  As you know we are big fans of Elementor, so this pleases us no end.
The control over pace and lesson progression is also quite flexible too.  As a course creator, you can allow users to browse forward and back through the lessons, or you can lock progression until all pre-requisites are completed and — for those who want courses to really sink in — you can drip feed course content over a set period you define.
Unlike some learning management systems, LearnDash is well suited to video content.  If you are preparing video-only content, LearnDash will flex to allow course progression after the completion of a video. This means once a video has completed playing, there are no additional buttons to press to advance a learner to the next topic, so users can have a more seamless experience.
Having installed and professionally configured the LearnDash plugin for several clients, the thing we like the most about it is how seamlessly it fits into the WordPress ecosystem. It plays well with other plugins and can be extended with a large number of add-ins which you can easily find on the
The plugin can also be easily integrated with WooCommerce membership to allow access to content for a timed period. Amongst the available add-ons for LearnDash are membership enablers for Memberium, Woocommerce Membership, Paid Memberships Pro,  Restrict Content Pro, and Memberpress.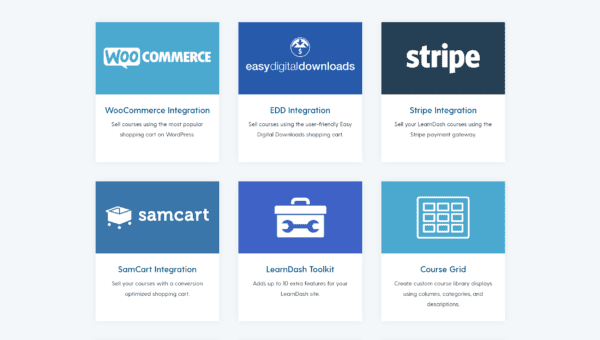 We have even worked with one client to expose their website to Brisbane university campus for a set fee, which is useful when you have some website or course content fit for university library catalogues and want to provide that easily.
So if you're looking to build out a new source of revenue by sharing your experience with others, you'd be hard-pressed to find a less expensive full-featured learning management system than this one. If you need help configuring LearnDash on your existing WordPress website I'd be happy to help you, just drop me a line at Asporea.