It is certainly surprising to us, how many customers don't realise why they need a Content Delivery Network (CDN). To us CDNs are like the swiss army knife of website performance and they do a lot more than speed up content delivery. Today I want to share my thoughts on why you should be using Asporea CDN to get ahead.
If you're not sure what a CDN is, then read our article here, which explains what it is and how it works. Most top name websites you visit these days is using some form of Content Delivery Network because they need to serve content to their visitors quickly and efficiently.
The size of web pages is growing. With the introduction of new responsive theme website and page builders means that the size of the average web page has grown dramatically in recent years. In the last eight years, the size of web pages has doubled to more than 2 megabytes. That's a lot of data to be transferred each time a page is loaded – more than a 200% increase!
1. Improved Performance and Latency
Improving performance and lag associated with distance from server, and web page sizes is the primary reason you'd use a CDN. If your website feels sluggish or some visitors have complained that your site is slow to load, then you need Asporea CDN to speed up your site quickly and simply. You'll see an immediate improvement as our recent tests show. We recently ran tests using a fresh installation of WordPress using a WordPress standard theme – we found that a visitor in New York would load a page (296K) from our server in Singapore in about 3.29 seconds. When we installed Asporea CDN, we saw a dramatic improvement of 2.19s. This is without any caching or optimisation software installed. With caching and optimisation added the delivery speed dropped to an impressive 1.83s.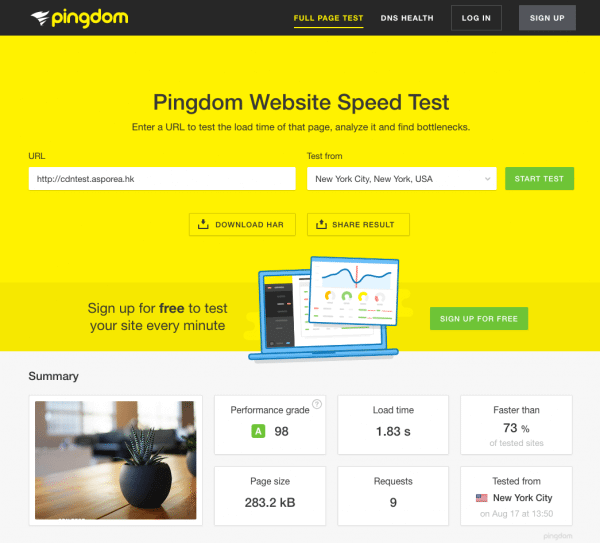 You can check the speed of your website from various locations around the world by using the Pingdom Website Speed Test at https://tools.pingdom.com/
2. Traditional Web Hosts Don't Scale
Increasingly what we're finding int he industry is that the servers deployed on most shared hosting isn't up to the task of current website needs. If you've had error messages or stern warnings from your web host that your site is using too many resources then you are a prime candidate for Asporea CDN. Media-rich content like video, podcasts and images are served from our Edge servers in multiple locations around the world, effectively doing the heavy lifting for your server in a very inexpensive way. Typically we'd expect to see a CDN installation taking about 70% of server load by distributing media, javascript and other media directly from CDN servers rather than the host web server.
Because CDNs carry most of the data load for your server, this can allow you to save on hosting costs, rather than upgrading to more expensive Virtual Private Server (VPN) or Dedicated Server hosting options.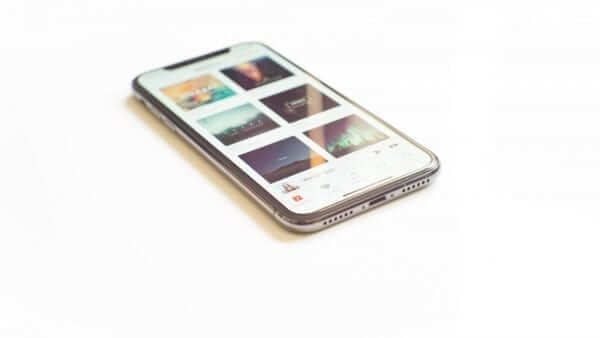 3. Improved Search Rankings
Having an accelerated website is a critical factor in improving your web rank. As far back as 2010, Google's algorithms favored fast-loading sites over those that are less responsive.
Image search is another important aspect of your search results. By serving images quickly from your CDN, Google will crawl your images more frequently allowing faster and more frequent indexing. If your pages are loading in two seconds or more you're a good candidate for more frequent crawling.
4. Asporea CDN is one of the least expensive.
One common objection to getting a CDN is the perception of high cost. This is just not true. While CDNs are an additional cost, the return on investment should be considered alongside your other marketing investments. Where you may not think twice about purchasing internet advertising, or a subscription to a bulk email service, it is surprising to me people quibble over a monthly fee for a fast website.
Think of ignoring CDN as a missed marketing opportunity. You will know yourself, how many times you've ignored a slow website. Think of how many sales or lead opportunities you miss because your website isn't loading fast enough. In most cases it is more than you realize.
5. Improved Reliability
Caching delivers you some degree of protection from your site going down. By decreasing server load by up to 70% your server can tolerate spikes in traffic a lot better. Most web hosts fall over when they're faced with unsupported heavy traffic loads and Asporea CDN can help you avoid this altogether. Asporea CDN delivers the bulk of the content from our own servers, rather than yours. Because Asporea CDN has 150 edge servers around the world, if one piece of our infrastructure goes down, content gets served from the next best location. This built-in redundancy maintains a harmonious website experience.
6. Denial of service and Security protection
Because a large majority of traffic is being served by our servers, Asporea CDN can help you mitigate denial of service attacks on our 150 edge servers.  We also support SSL natively to ensure that all our content is encrypted and you can use your own SSL including free Let's Encrypt SSL.
7. Asporea CDN is setup in five steps
Asporea CDN is simple to setup. You can use your own caching plugin like WP Rocket or WP Super Cache and add your CDN details, or our simple CDN helper software.
With a few clicks and entering two pieces of information your CDN will be deployed. There are no complex instructions to follow, or difficult installations. You don't even need to login to a control panel. We do the heavy lifting for you, so you can set and forget.
For example, if you are running WordPress, you can use the free lightweight Asporea CDN plugin and get your CDN implemented in five simple steps.
Order your CDN package at Asporea CDN to receive your domain handle and API key
Install the Asporea CDN plugin by going to Plugins > Add New
Activate the plugin
Enter your Asporea CDN Unique ID and Asporea CDN API Key
Click Update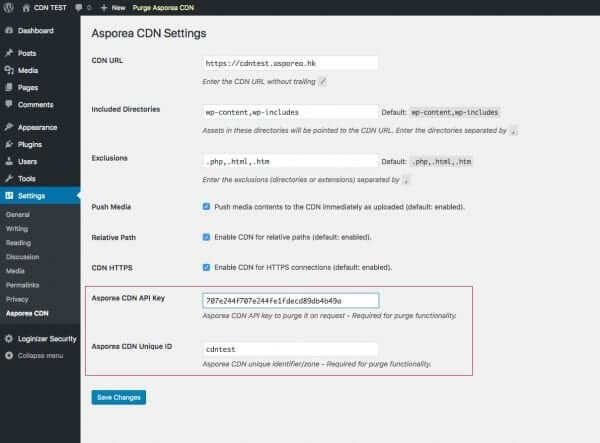 Closing
You can see a CDN offers so many benefits apart from dramatic performance enhancement. You'll start to see SEO and better conversion rates as your website experience improves.
If you haven't had an opportunity to try a CDN, or you'd like to experience Asporea CDN for the first time, take advantage of our 60-day free trial with the coupon code: FREETRIAL2018. Just follow this link and enter the coupon code at checkout and explore the benefits of Asporea CDN for yourself